Gaurav Chopraa met his baby boy after two weeks and he shared a few adorable pics of the reunion with his little one. Sharing the heart-melting pics, Gaurav wrote, "When #baby meets #babydaddy after two weeks! Our #princeChopra catches the neck of all my shirts and then doesn't want to leave them ! Suddenly you don't remember what's plaguing the world , the violence , the hatred , the venom being spewed on social media ..sending out love and asking for blessings ,like always..(sic)"
Narayani Shastri, Gaurav's ex girlfriend was quick to comment. She was all hearts for the pictures of the father-son duo.
Check out the pictures here.
Here's the screenshot of Narayani's comment.
[image_source id="967341″ align="alignnone" width="720″]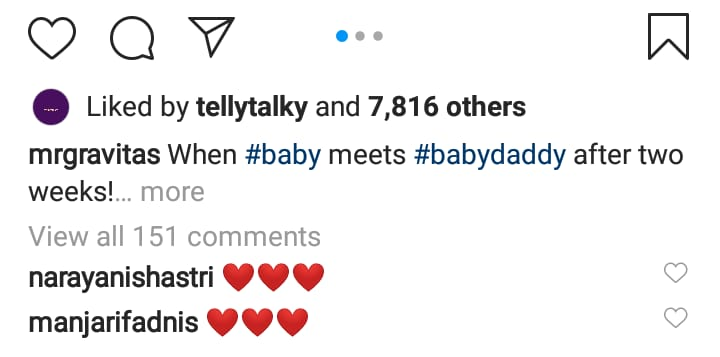 [/image_source]
Gaurav Chopraa and wife Hitisha were blessed with a baby boy after the actor lost his parents. His mother passed away battling with cancer and his father passed away due to Coronavirus 10 days later.
Also Read: Gaurav Chopraa shares first pictures of his newborn boy; remembers his late parents in his post