What was Sridevi's idea of a perfect vacation?
That Sridevi loved being a globe-trotter was never a secret! But did you know which was her most favourite city in the world?
The late iconic actor, who would have turned 57 on today, had a soft spot for the buzzing city of New York. Her daughters Janhvi and Khushi love visiting Los Angeles, and her husband Boney Kapoor enjoyed going to London. But for all of them, the charm of travel would lie in doing it as a family.
A common destination which never failed to catch their fancy was the scenic South of France, and so it comes as no surprise to know that they visited Cannes, Nice and Monte Carlo in the French Riviera at least four to five times.
On Sridevi's birth anniversary, here's looking back at one family picture clicked in Miami, while another is from the sidelines of the actor's shooting for Mom in Mestia town of Georgia. The Kapoors stayed at a ski resort in offseason, and so they could easily soak in the peaceful vibes in an almost empty town. After the shoot, they would walk around the town. Have a look at the pictures here:
[image_source id="952279″ align="aligncenter" width="2048″]
[/image_source] [image_source id="952281″ align="aligncenter" width="2560″]
[/image_source] [image_source id="952285″ align="aligncenter" width="2076″]
[/image_source] [image_source id="952284″ align="aligncenter" width="1439″]
[/image_source] [image_source id="952283″ align="aligncenter" width="2560″]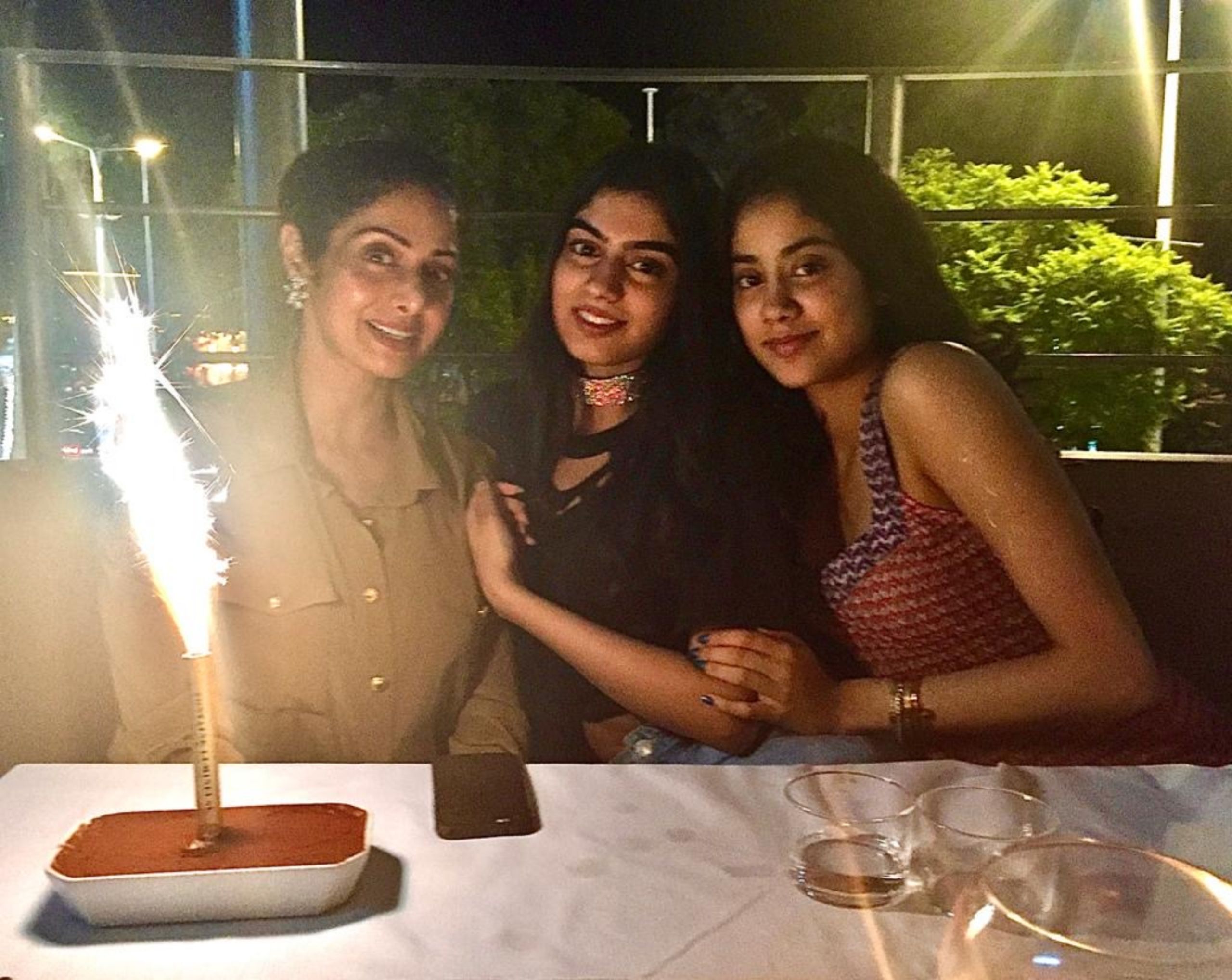 [/image_source] [image_source id="952282″ align="aligncenter" width="2560″]
[/image_source]
These are just a few of the many fond memories from Sridevi's travel diaries, a deeper glimpse of which you could still find on her Instagram feed. Don't miss how she never let her fashion guard down. That's what made her a true diva.
The last few pictures are from her Cannes vacation in 2015 where the family brought in her birthday.
When Sridevi opened a Karwa Chauth fast on a plane.
It has been over two years since Sridevi left, but to her multitude fans across the world, her friends and family members, memories of her lilting laughter and strong screen presence, still make her feel alive.
That's the magic that the cinematic icon, who would have turned 57 today, left behind. The audience loved her for her myriad roles on the big screen; fun, mischievous, romantic and fiery. In real life, few know that Sridevi was very simple and traditional at heart.
Filmmaker Subhash Ghai, who directed her in the film 'Karma', had once described Sridevi as a "purely traditional housewife – a great mother and perfect host for guests at home". And that she was.
A mother of two, Janhvi and Khushi, her daughters with husband Boney Kapoor, Sridevi was as doting a mother as she was a devoted wife.
She always valued traditions, and used to religiously fast on Karwa Chauth, a one-day festival where a woman fasts for the well-being and longevity of her husband until she sees the moon at night.
It so happened that on two occasions, Sridevi and Boney were abroad during Karwa Chauth. Once, they were in New York during the shoot of 'English Vinglish'. Sridevi duly observed the fast and opened it with proper rituals. Have a look:
[image_source id="952286″ align="aligncenter" width="1704″]
[/image_source]
During another instance, the couple was on their way on a plane from Mexico to Los Angeles. It was a night flight, and Sridevi wanted to see the moon before she could open the fast with a glass of water. According to a source, a request was made to the pilot, who ensured the plane was in a spot from where she could see the moon.
Now that's a 'chand'ni tale to remember, isn't it?
Also Read: When Sridevi celebrated her last birthday with Aishwarya Rai Bachchan, Rekha, Rani Mukerji and other celebs